The Gypsy Wagon is full of some pretty great moms. From our shoppers to our staff we are blown away by the amount of mom love we see swirling around our stores. What a beautiful thing to see! We get to watch our gypsy gals become mothers and watch them grow into their new roles with such grace and style.
A few great TGW mamas welcomed us into their homes with open arms and lots of love to share what makes motherhood so special to them.
The Fab 5: 4 beautiful generations of fabulous ladies.
Mary Jane Turner, Caroline Randolph, Lucy Randolph, Harriet Wallace, Ellie Turner
You would be hard-pressed to find another group of a women with bigger hearts and warmer spirits. We admire this crew for their incredible bond, for being pure sunshine, and for being strong women. Harriet leads the group as mother to Mary Jane who is mother to Caroline & Ellie, and Caroline is mother to tiny Lucy.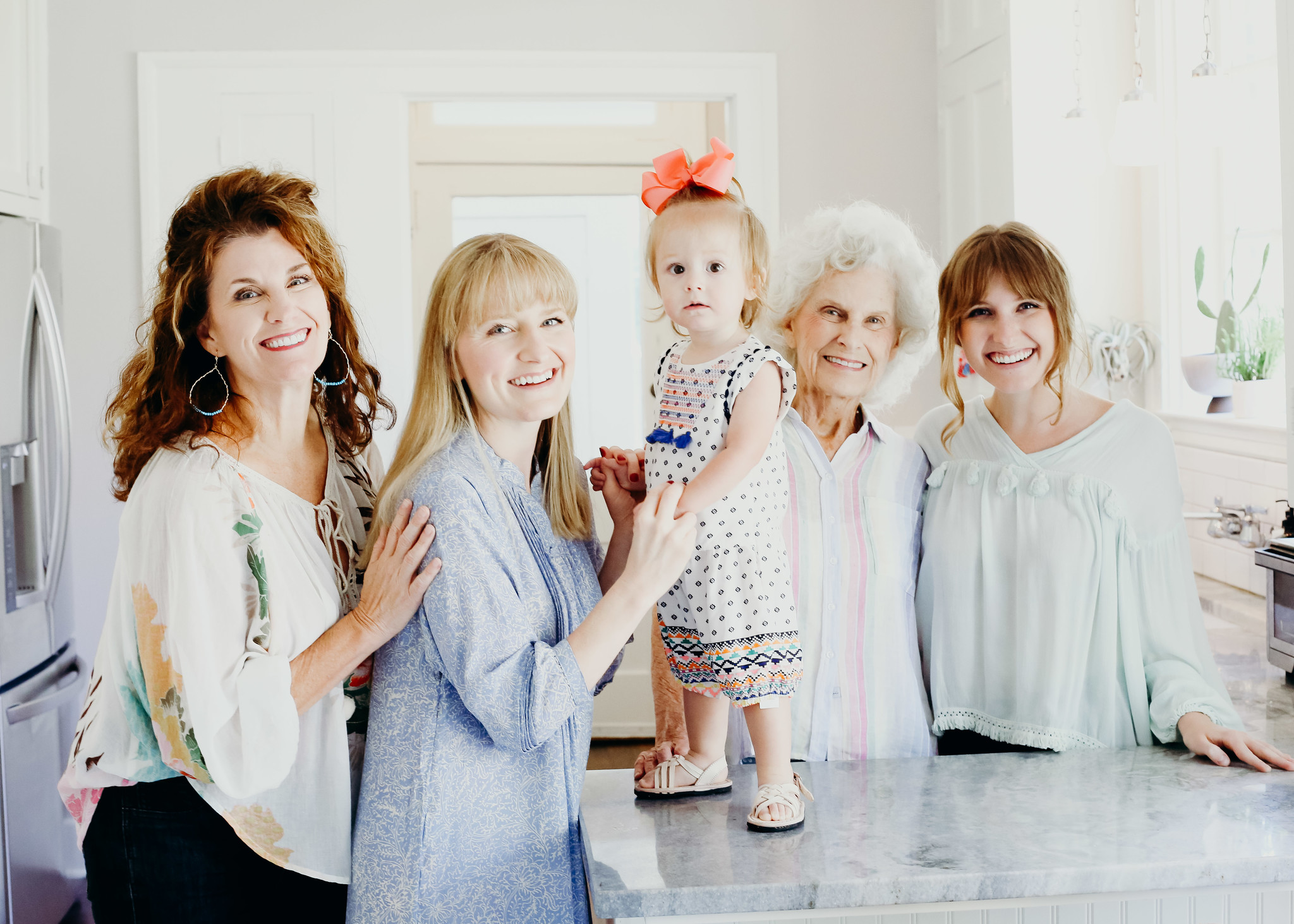 Caroline welcomed me into her 1920s Oak Cliff charmer (shared with husband Kyle, and sweet Lucy) with a line of hugs, The Beatles were playing on the radio, sunlight drenched the living room, and I immediately felt at home. All of these women have the gift of making you feel special, they radiate so much joy and warmth around you.
As we played catch up, and toured the house I quickly learned that Lucy runs the show. Lucy at 18 months old is silly and curious, and carries the sweetest disposition about her. Everyone dotes over her, and she soaks it all up!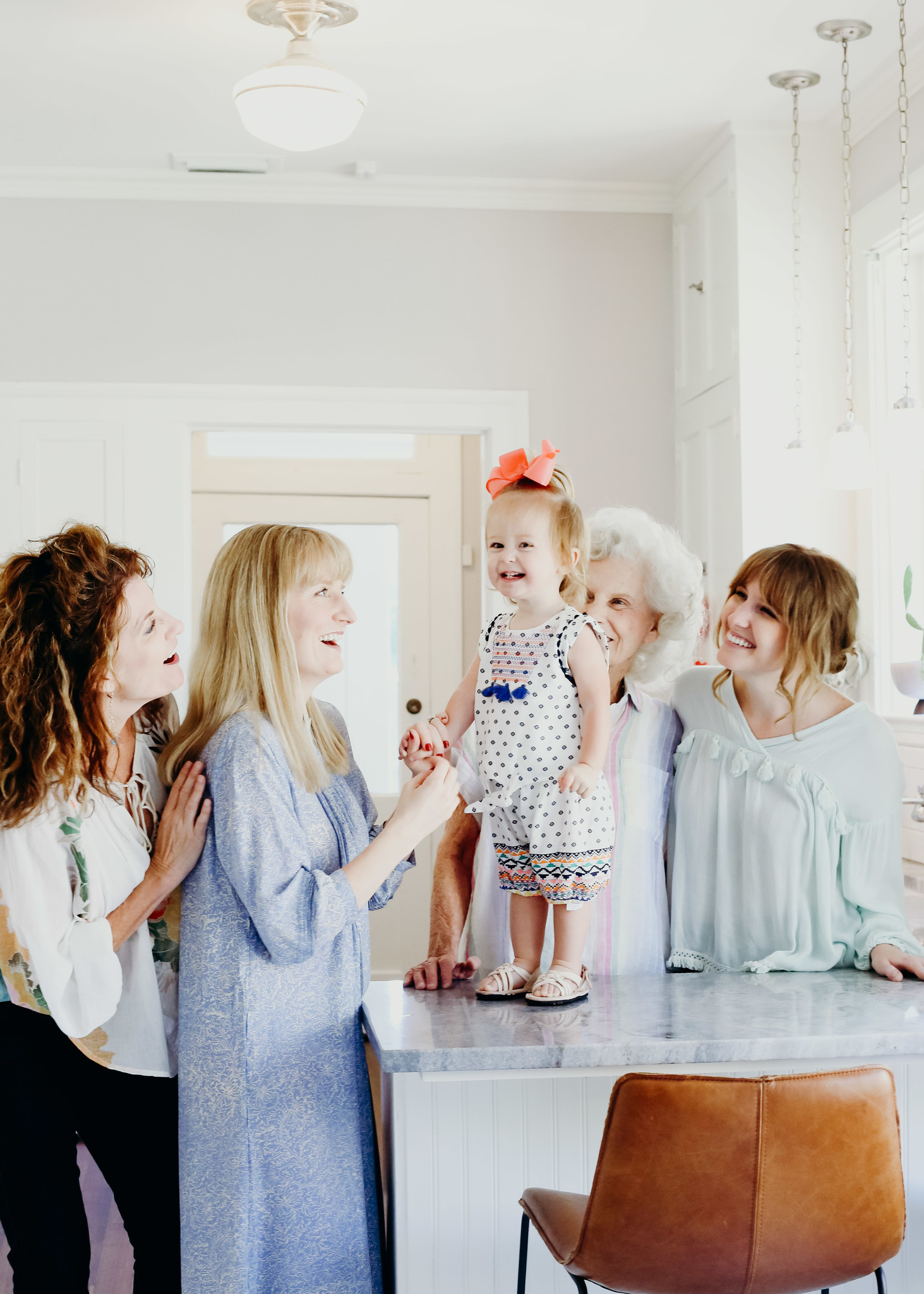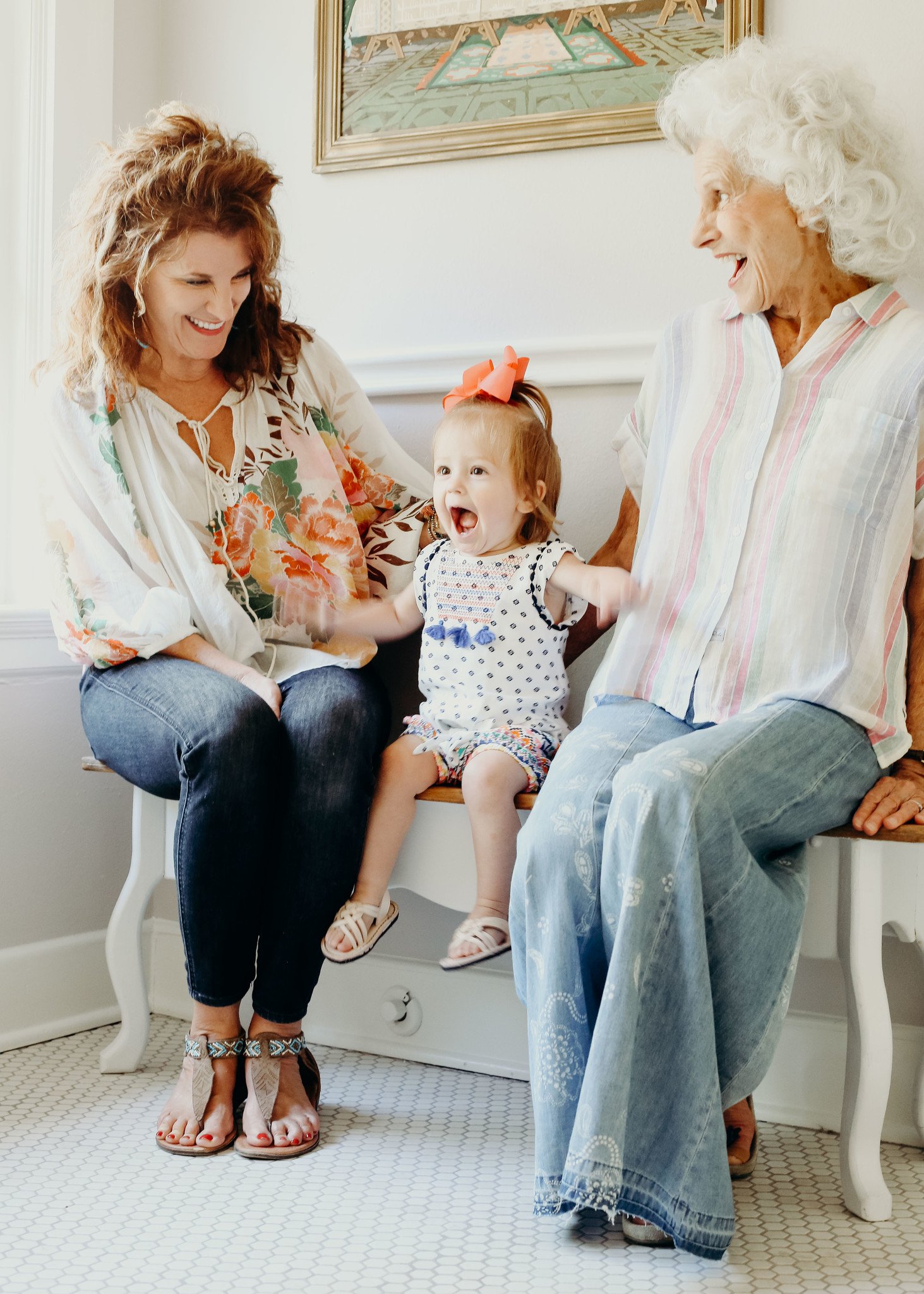 What is your favorite thing about being a mom?
Mary Jane: That's a hard question to answer because I love everything about being a mom!!! When the girls were little, I would say I loved watching their little personalities develop-I was always so curious about who these little people that God had given me were going to turn out to be! Every day was a new discovery & I loved that! NOW, my favorite thing is being friends with my daughters & watching how they love one another. Loving the fact that though we will always have a mother/daughter bond, we are now genuinely friends as well.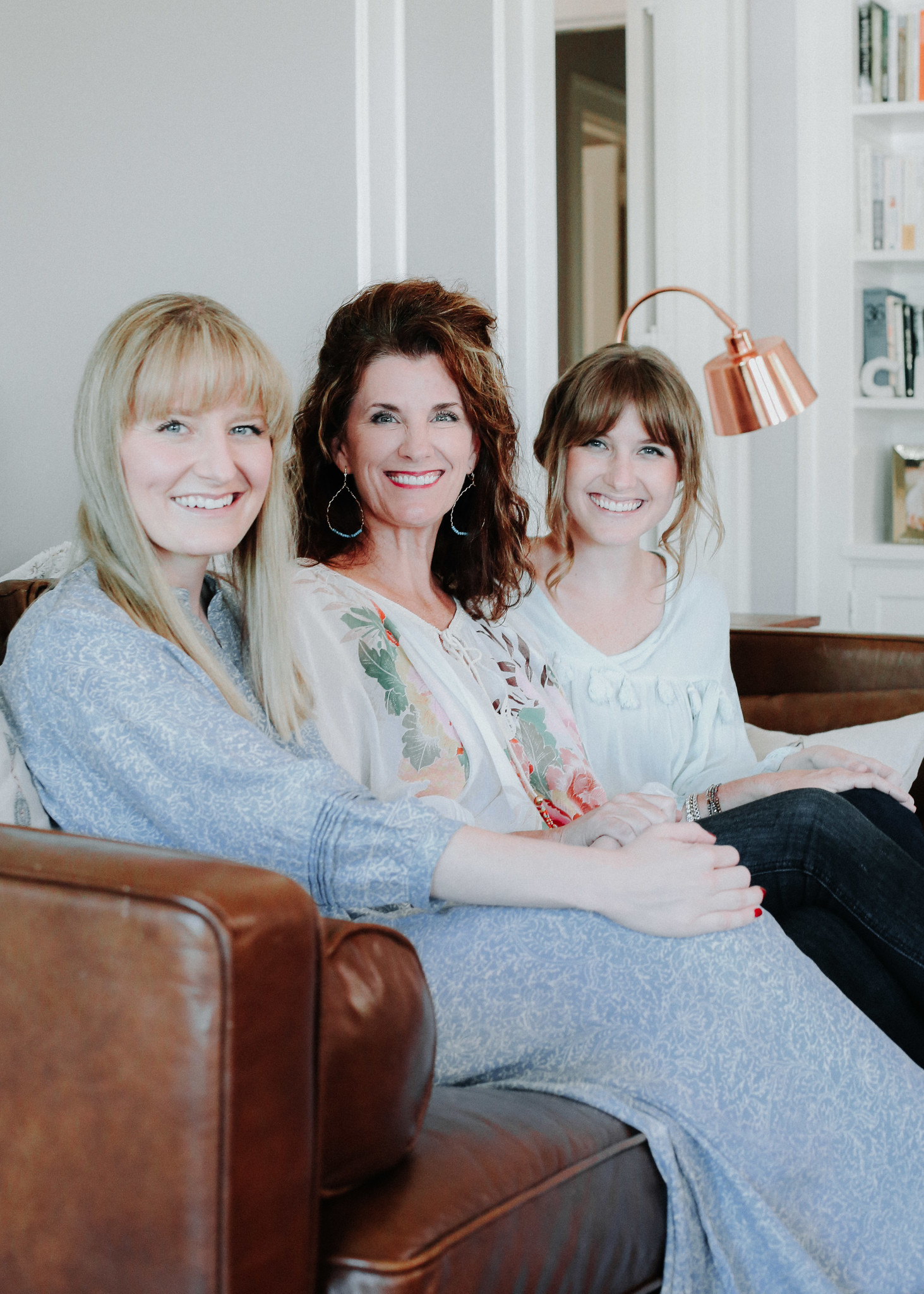 Caroline: I want to say everything but I'll try to narrow it down! It's so fun to raise a tiny human that is a crazy perfect mix of me and Kyle. Sometimes Lucy will make a certain facial expression and I feel like I'm looking at myself, and her big brown Disney princess eyes are all Kyle. She's really strong willed and stubborn like both of us. And hilarious. Just the funniest little person.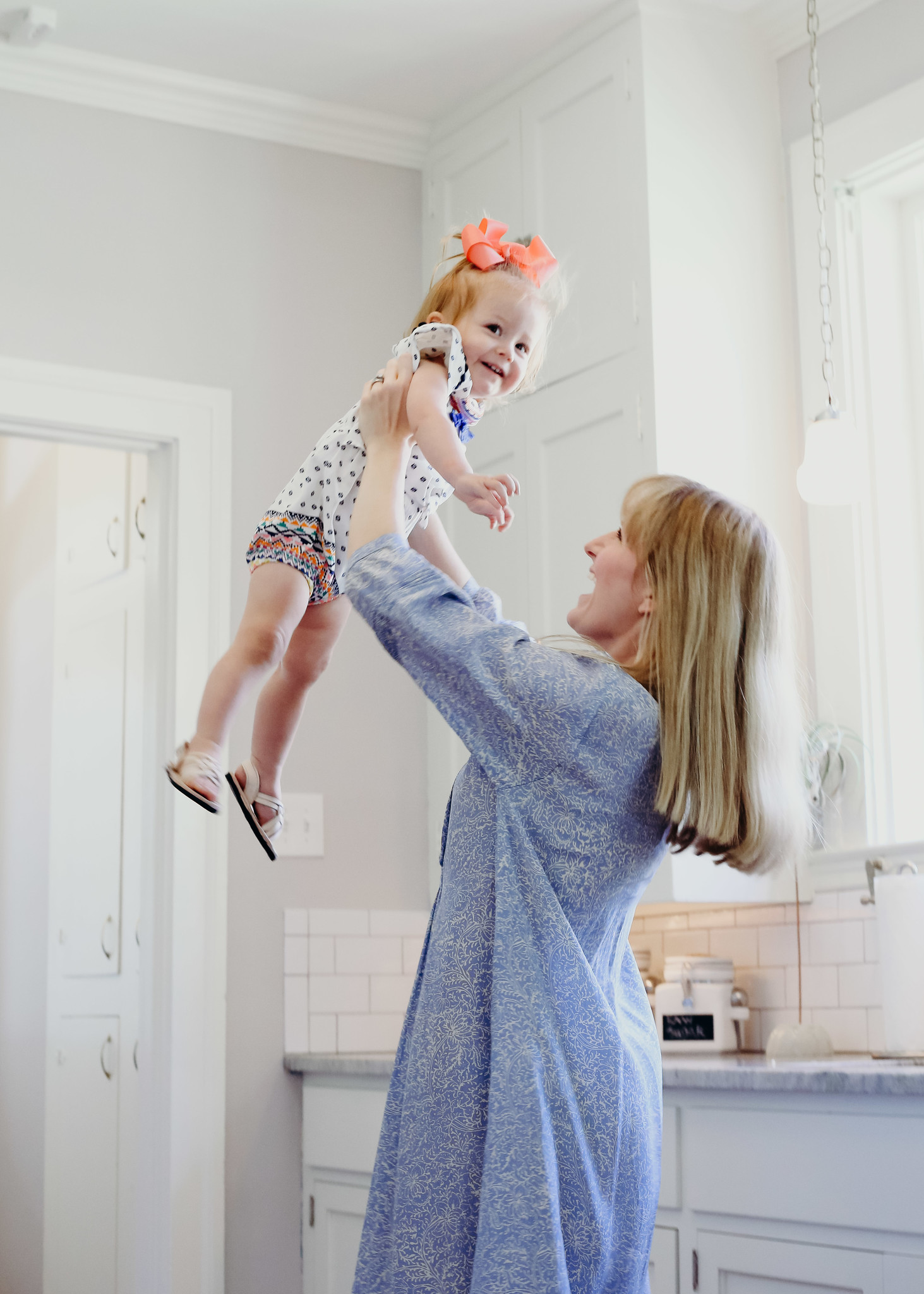 How do you keep your family close?
Mary Jane: On a practical level, we make an effort to spend time together! Whether it is sharing a meal together every weekend or taking a family vacation, spending memory-making time together is so important! We treasure sharing each other's burdens & sorrows as well as triumphs and joys!
Caroline: Well, we're close geographically which makes it easy to see each other often. Ellie lives one street over from us, and everyone else is 15 or 20 minutes away. I would say food mainly keeps us close -- a typical Friday night for us is around the corner window table at Eno's. We're all each other's best friends.
Ellie: I'm not a mom, but one of the simplest ways I've seen my mom keep our family close is just by always being there. I think sometimes people forget that the ordinary day to day of life can be even more special than the big moments. She never misses the big moments, but what I love even more is that she knows how to celebrate our family on just a normal Tuesday.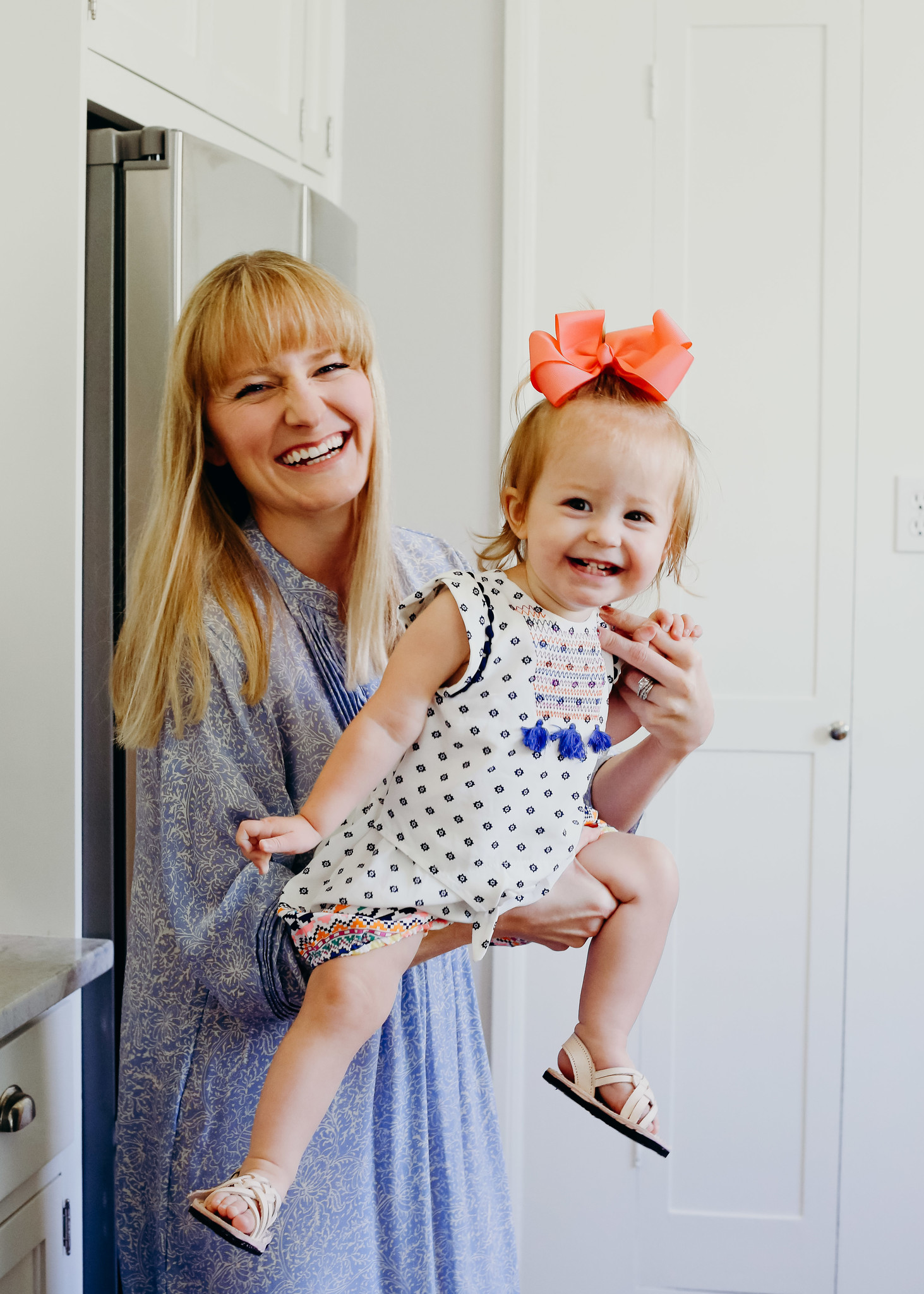 What is your favorite thing about your mom?
Mary Jane: My favorite thing about my mom (Harriet) is that she has never let her age define her & that she is and always HAS been a prayer warrior for our family. She has continued to want to learn new things and better herself at every stage of life & that is a wonderful example for me & my girls! I am so thankful that Caroline, Ellie & now little Lucy too, have the benefit of my mom's wisdom!
Caroline: Again, this one's going to be hard to narrow down. If you know MJ, you love her right away. She's another beam of sunshine and also a natural servant. She gives her time and energy to others daily. She is also a beautiful example of what a great mom is!
Ellie: My mom is the most selfless person I know. She can't go through the day without seeking some opportunity to love and serve another person. I also love that she automatically makes the day of anyone she comes into contact with. She can't help but make people smile. It's just who she is.
Queen Gypsy & Her Tribe
Carley, John Beck, Earnest Seale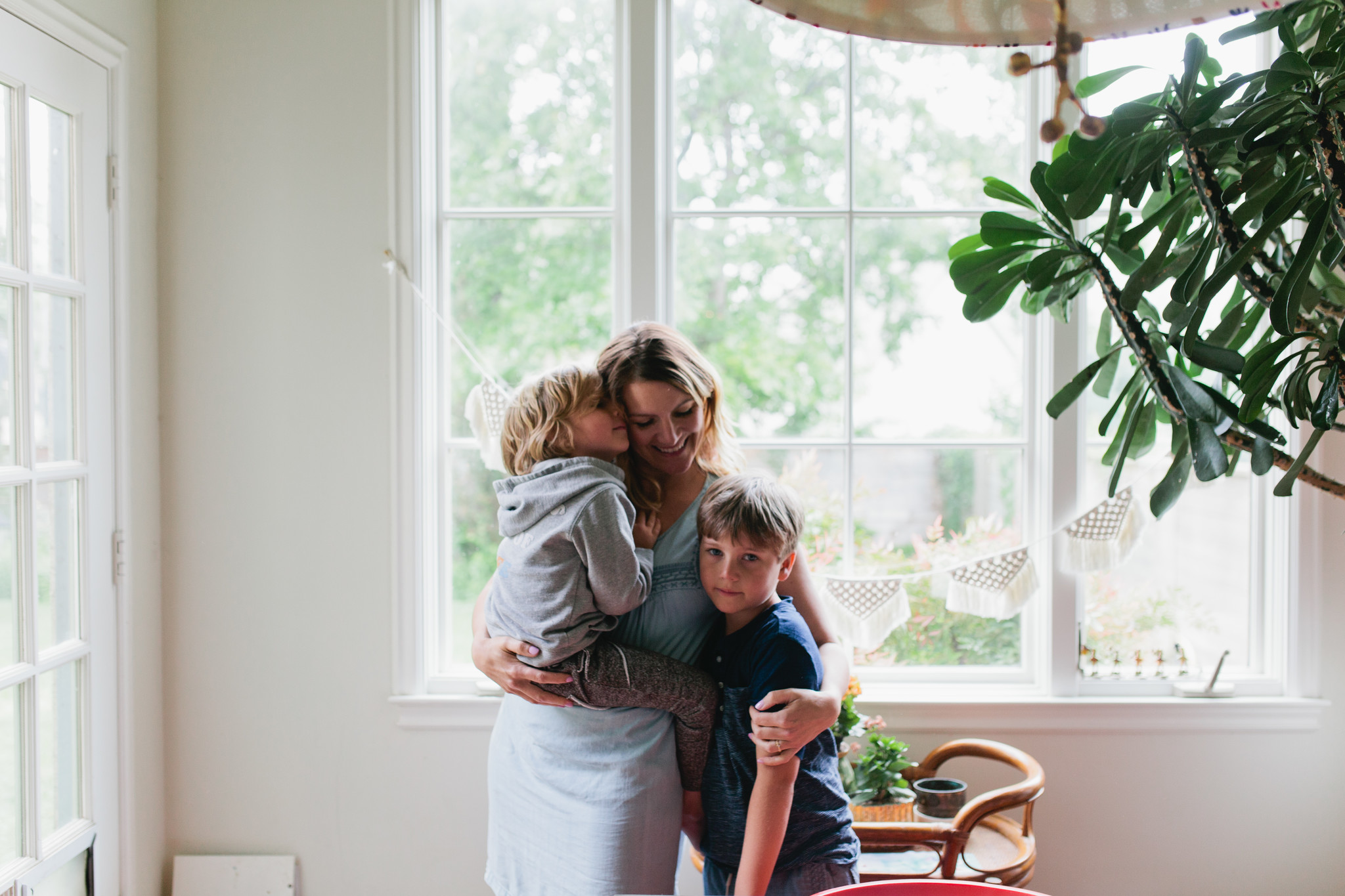 Carley Seale is the ultimate boss mom. She is a mom to 2 boys and a whole load of gypsy gals! A typical day could have her buying summer styles for TGW in the morning, John Beck's School of Rock practice at lunch, back to The Wagon for a social media meeting, and ending at Earnest's ballet recital. The woman is unstoppable. She is a momma-on-the-go and her time with her boys is precious. Winters are spent in Crested Butte, Colorado teaching them how to ski, and spring break sends the family to California where they explore beaches and play at Legoland. She makes every moment with them count.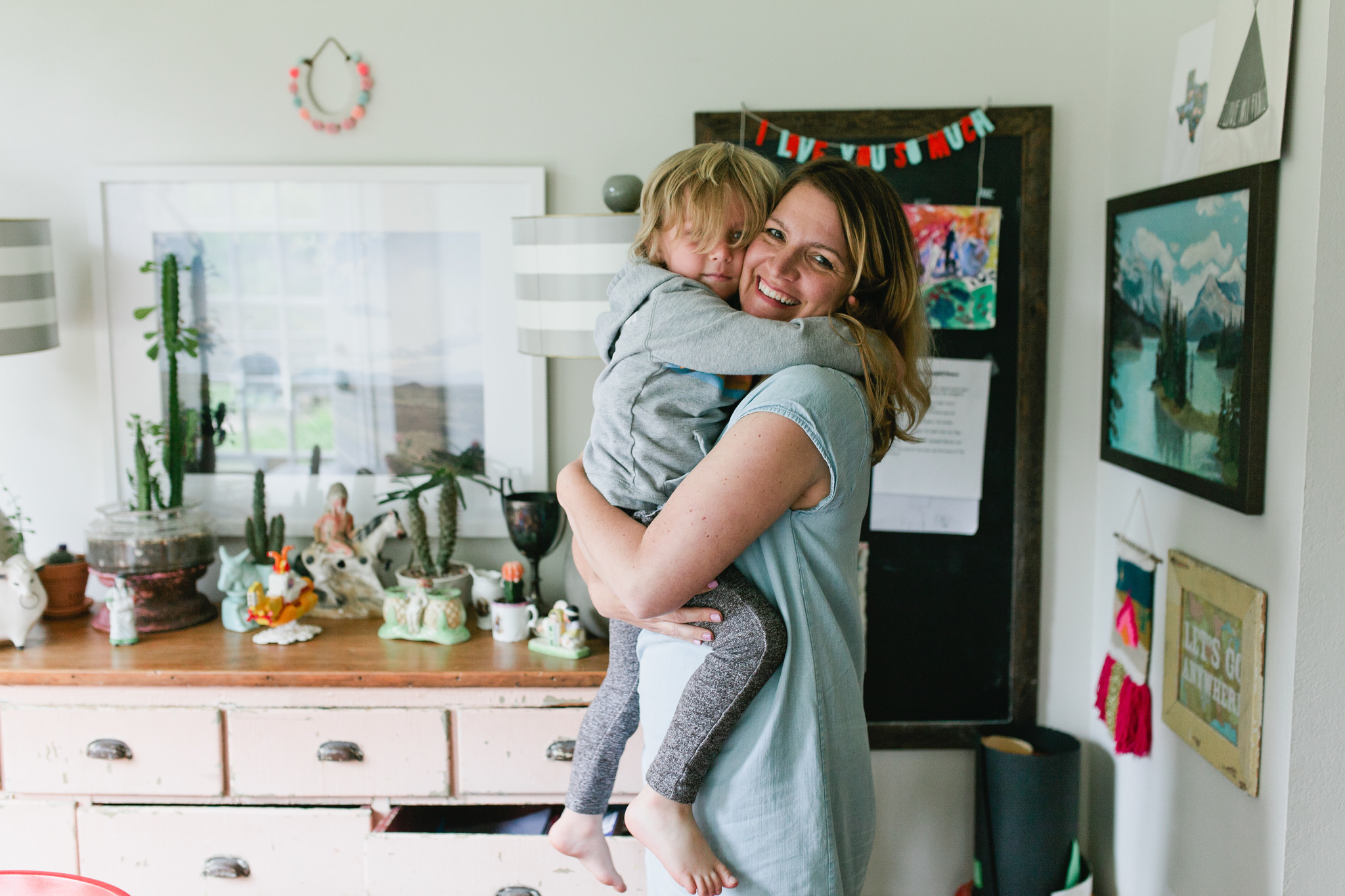 What is your favorite thing about being a mom?
Carley: My favorite thing about motherhood is the adventure. You seriously can not predict a single day. You aim for plan A, hope for plan B, and when plan C happens you embrace it with all your might. My mission as a mother is to teach my boys to live their lives with gusto, be servant hearted, and be safe.
The Hip Duo: New age momma and son spreading joy and love.
Lindsey & Coen Munchrath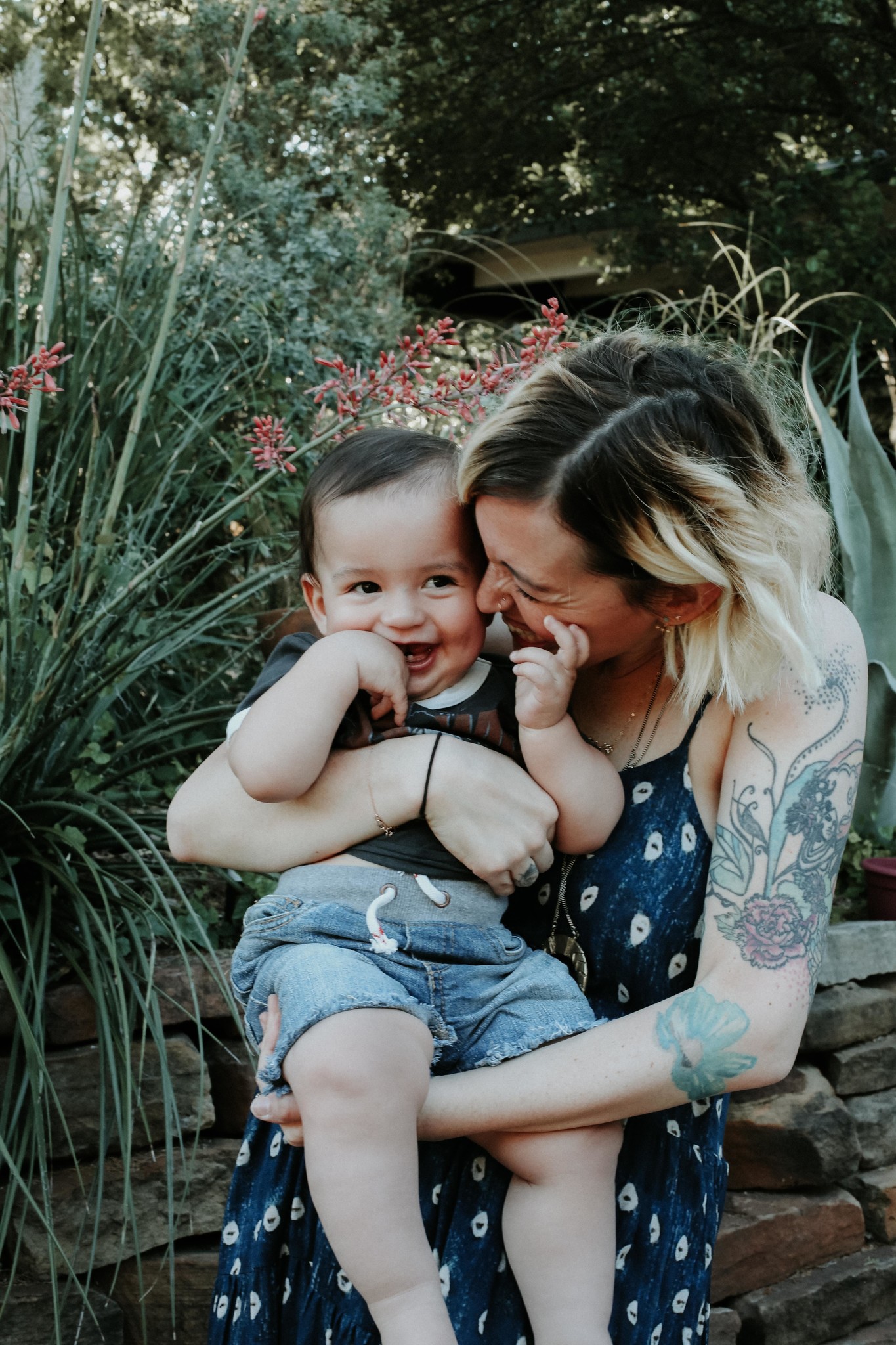 The Munchrath home is a full home; full of life, full of big dreams, full of happiness, and full of compassion. Walking into their home I am immediately welcomed in by their pack of rescue dogs. Lindsey and Ryan rescue local dogs, and adopt them out to good homes. Coen, at 10 months old, is cruising at full speed in his walker, keeping up with his pack. **Cuteness overload!** Coen has created a new sense of wonder and excitement in Lindsey and Ryan. Everyday is filled with new discoveries of what Coen will be like that day or what Coen will bring out in them. You can feel the new type of joy he has given them throughout their entire home.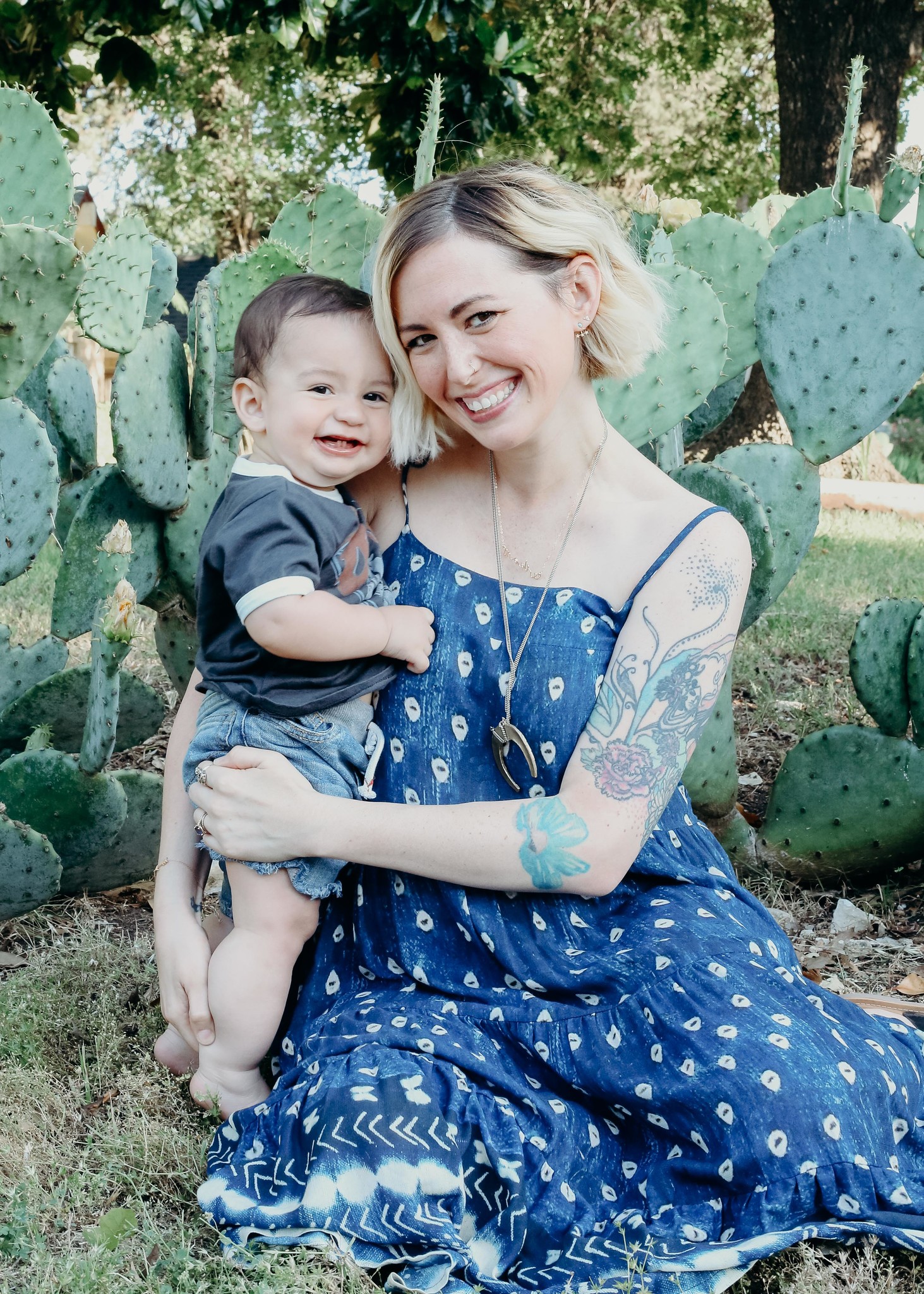 What is your favorite thing about being a mom?
Lindsey: I love the confidence and bravery that I've gained since I've become a mother. I want Coen to know that you can do anything you put your mind to, and that with passion and hard work the sky is the limit. I am able to conquer and face my own fears and feel that I know myself better than ever! I have a clear perspective about goals and life, because I want nothing but the best for my lil turkey burger. I'm a calm spirit with a natural tendency to nurture and becoming a mom has filled that space in my heart. The unconditional love given and received is one of the best feelings in the world. I can't wait to continue to teach Coen all the best things in life!
The Happiness Brigade: Where you are free to dance like a robot all the way through life.
Mindy & Jonah King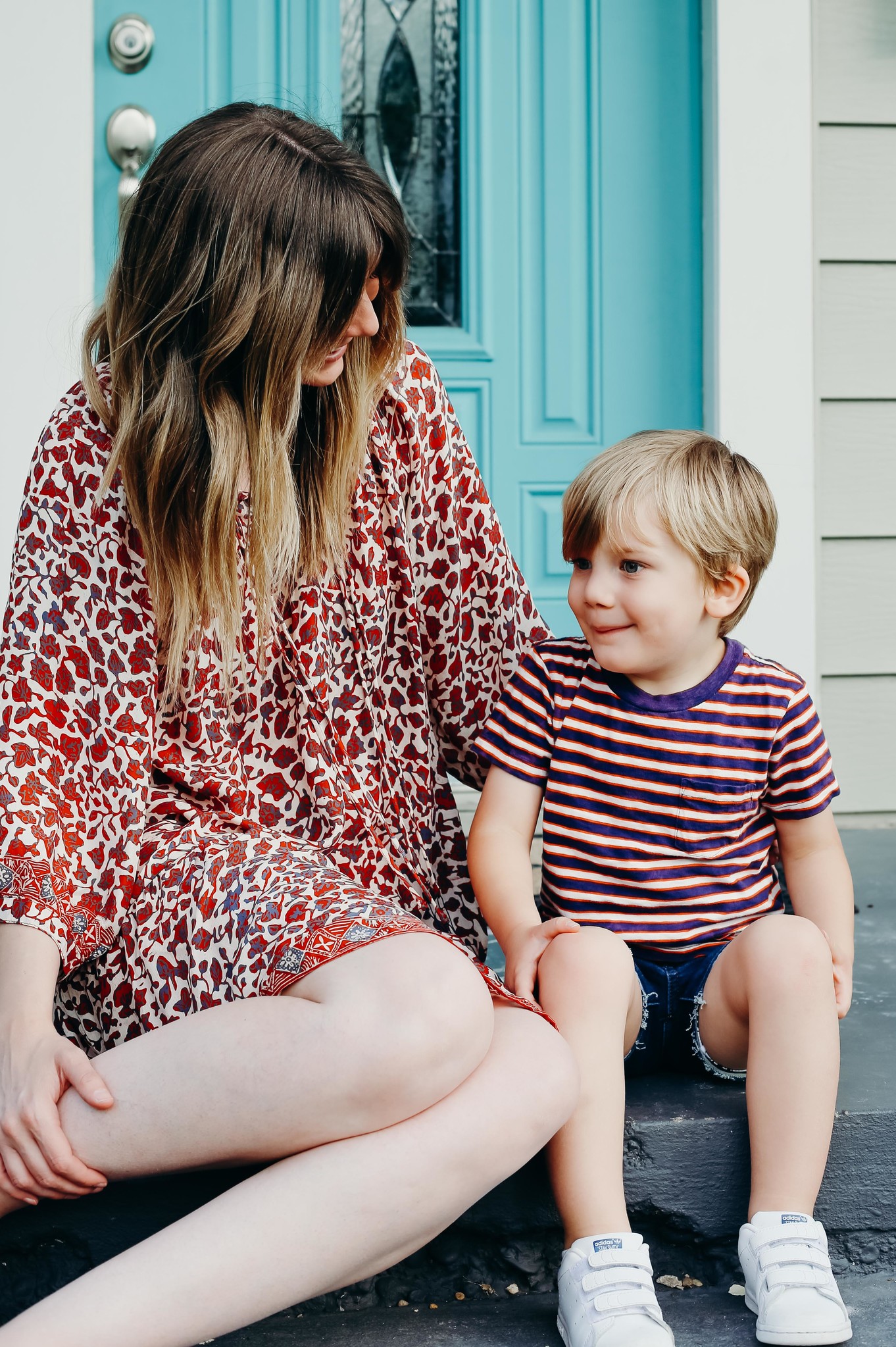 Mindy and Jonah have an open, honest, silly, fun relationship. She always wants him to know that home is a safe place, and there is nothing he could do to make herself or her husband, Christopher, stop loving him or being on his team. She wants home to be a haven for him. "The world is ugly and hard enough, home should be safe!" It is very clear that Jonah understands these facts. At home he shows off his robot moves and super powers with gusto, communicates how he is feeling about what is going on around him, tells jokes, and lets you know your his best friend (that one is just for me, and I it hold very dear).
What is your favorite thing about being a mom?
Mindy: It's very hard to articulate one favorite thing about being a momma to a three year old. There are Knock Knock jokes, knee tickles, trying ice cream flavors for the first time, learning hopscotch, Rock-Paper-Scissors, singing new songs, and the joy of making him laugh so hard he goes silent except for the wheezing of trying to catch his breath. But since you're pressing me to I would summarize it down to this: The awesome responsibility of helping to shape an individual's character and the moments of pride and joy when you start to see their benevolence emerge.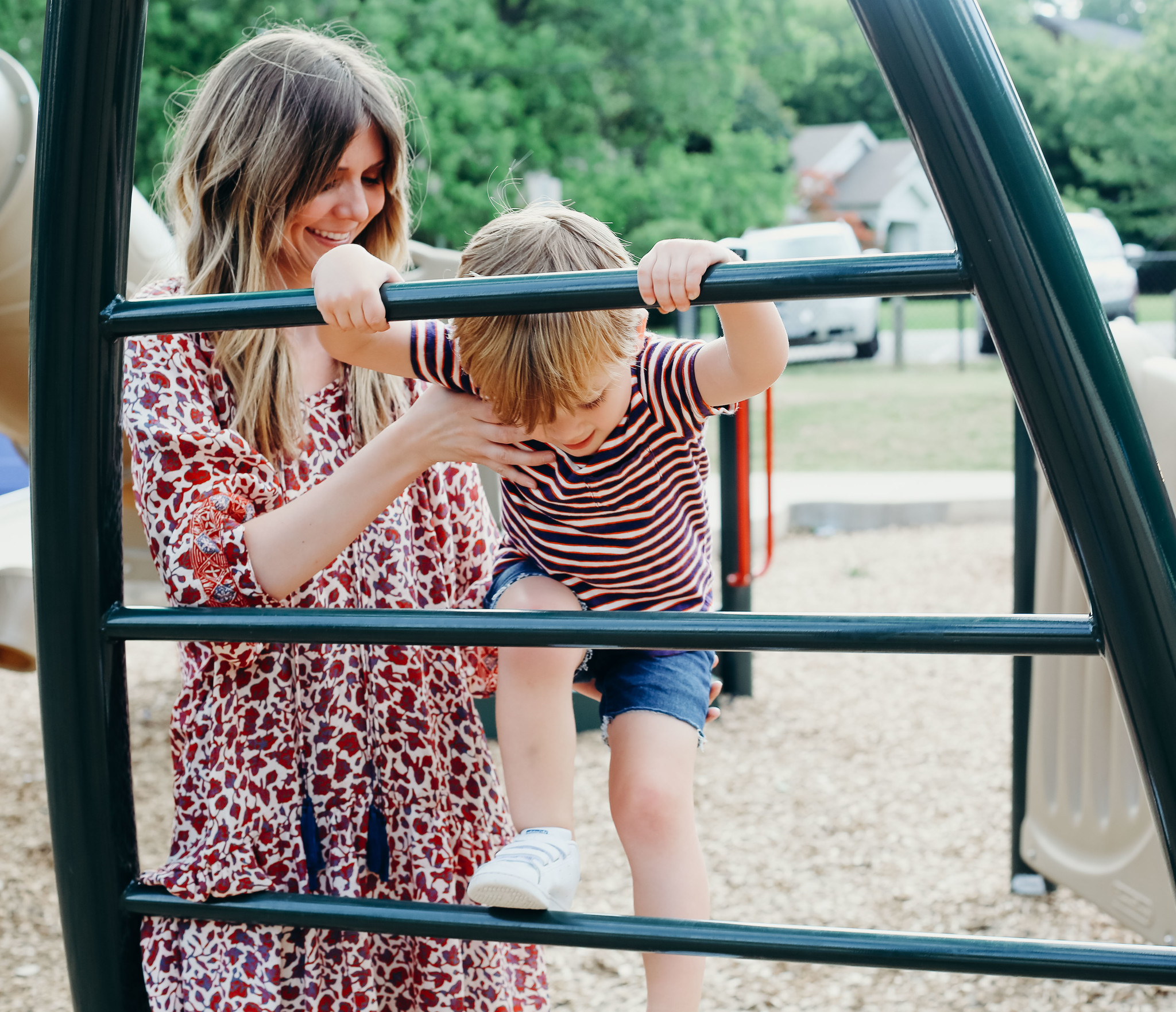 My parenting philosophy is much like everything in life: you do the best you can, as often as you can; try to demonstrate empathy, patience, compassion, and integrity and hope for a good outcome. It's really hard! Having a child tests the limits of your physical energy and emotional strength. But the joys are so great! They come in the moments when your child looks on at another child having a tantrum and says, "She is having a hard time, I'm sorry she isn't feeling good!" Or when he brings you a piece of glitter and says, "I found this treasure! I really wanted to give it to you!" Of course there are a lot of times when your kiddo's emotions swing wildly, tantrums erupt and things seem to be out of control and you wonder if you're doing it all wrong. But there are so many moments when your heart is filled with pride because of getting to see a glimpse of the person they will be, and those are the times that loom the largest and bring me as a momma this biggest joy!
Momma-To-Be: Awaiting the coming magic.
Stesha & Goldie Gearner
It is the most fun to have one of our TGW staffers be pregnant, we are constantly planning out Goldie's gypsy baby style. Goldie is going to be the most fashionable babe around. We talk about what funny habits she will get from her vivacious momma. We love dressing the bump. Nursery decor is major. Our convos lately have been all things Goldie.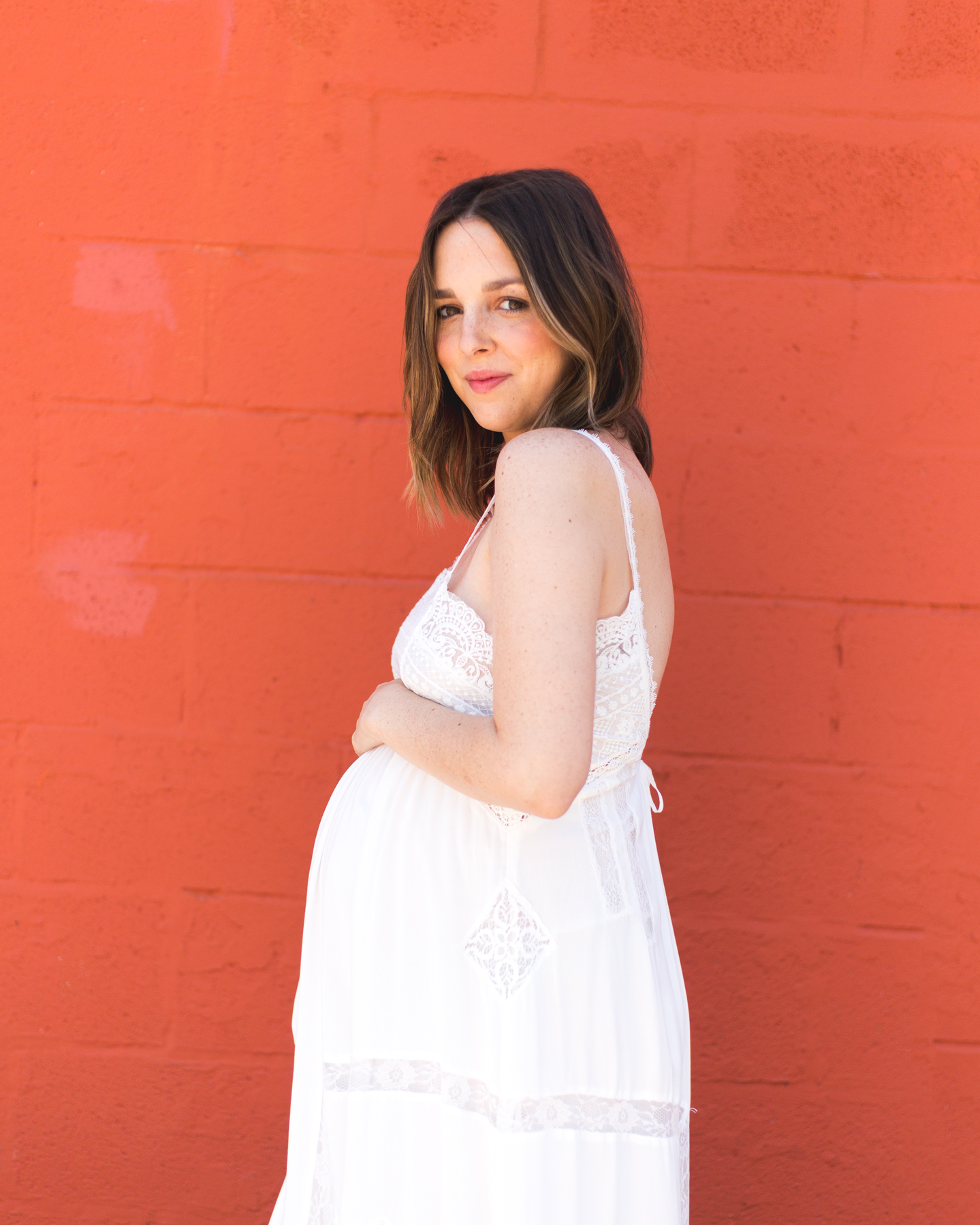 What is the most exciting part about becoming a mom?
Stesha: The most fun and exciting part of pregnancy for me personally has been being able to talk about and dream about what our sweet girl will be like. My husband Daniel and I could not have more different personalities, so we are excited to see who she will resemble more. Will she have a sweet and calm nature like her dad, or be sassy and chatty like her mama? Will she feel the need to do everything in a specific order, or be whimsical and go with the flow? None the less, we cannot wait to meet our Goldie girl.
The meaning of being a mother has an endless definition. If we were to write it out completely it would go into infinity. A mother is EVERYTHING! A mother is a protector, a best friend, a teacher, a care giver, a power house! Mothers are our life support and spiritual guides. They are the creator of our universe as we know it. Happy Mother's Day to all the moms out there. Whether you are mom of many or just one, a mom-to-be, a mom of a dog or bunny, an adopted mother or birth mom....We celebrate you and we thank you.
I tell my kids, 'I am thinking about you every other minute of my day."
Michelle Obama